Fargo City Commission Votes 4-1 To Oppose State Anti-LGBTQ Bills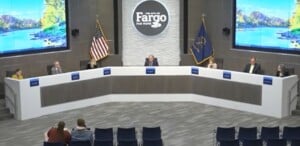 FARGO, N.D. (KVRR/KFGO) — Fargo City Commission votes 4-1 to oppose a series of state bills filed by Republican legislators targeting LGBTQ+ residents in the state.
The only no vote came from Commissioner Dave Piepkorn.
Cody Schuler, advocacy manager with the American Civil Liberties Union of North Dakota told commissioners the legislation amounts to a "culture war" that takes away from real issues North Dakota is facing.
Commissioner John Strand pointed out that the anti-transgender bills under consideration are workforce issues.
"These are workforce issues. All of these topics will affect people's choices, whether North Dakota or Fargo is in their future," said Strand.
Mayor Tim Mahoney responded, "And this is an important statement the city of Fargo has to make is that we will stand for people and stand for them coming into our community."
The measure was forwarded to the city commission by recommendation of the Human Rights Commission last month.