N.D. Legislature: Closer to Overriding Veto, Sports Betting Killed, 80MPH Speed Limit Revived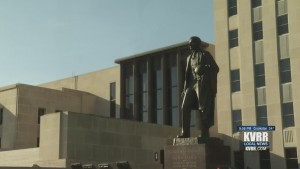 BISMARCK, N.D. (KVRR) — The North Dakota House of Representatives has voted to override Governor Doug Burgum's veto of a bill to prevent local governments from adopting approval voting for local elections.
In 2018, Fargo was the first city in the country to adopt approval voting for its local elections.
It allows a person to vote for more than one candidate for the office – and the candidate who receives the most votes is elected.
It was done by a citizen initiative, under the city's home rule charter.
Representative Ben Koppelman of West Fargo says he took exception with some of the terms in the governor's veto message.
One was that none of the sponsors of the bill represents Fargo.
Koppelman says the senior representative in District 46, Jim Kasper, only represents Fargo.
"And so members of the assembly I hope that you'll stick with me, stick with the body on our vote and remember this is not a vote solely on the context of the bill, now it's time to defend our chamber. Please vote green," Koppelman told the assembly.
Democrat Rep. LaurieBeth Hager of Fargo responded, "And I don't think that any one of us in the room has a right to take away the Home Rule charter and how Fargo, North Dakota wants to elect their local representatives."
The House vote was 71 to 17 to override the veto.
It needs a two-thirds vote in each chamber to pass.
The Senate is expected to take up the veto on Tuesday.
In other action in Bismarck, sports betting will not appear on the November 2024 ballot in North Dakota.
The state senate killing a sports betting measure 30 to 16.
The measure would regulate professional sports betting which many people in the state already do through off-shore betting accounts.
Lawmakers also reviving an effort to set the interstate speed limit at 80 after a veto by the governor.