Hoeven visits DMZ, meets with South Korean defense and trade reps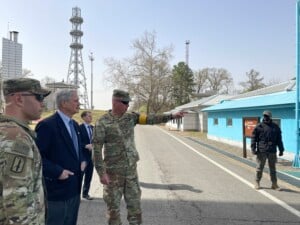 FARGO (KVRR) – Sen. John Hoeven (R-N.D.) recently traveled to the demilitarized zone, the border area that separates North Korea with South Korea.
During his visit to the DMZ, Hoeven met with South Korea defense and military leaders. Hoeven says the trip to South Korea also included meetings with agriculture leaders to discuss trade issues.
Hoeven says with nearly 30,000 U.S. forces in South Korea, he wanted to see the joint security zone "firsthand."
Hoeven is also traveling to Taiwan, where he'll meet with President Tsai, members of the National Security Council and agriculture trade representatives "to enhance security cooperation and trade opportunities."
Hoeven is the ranking member of the Senate Agriculture Appropriations Committee and a member of the Senate Agriculture and Senate Armed Services Committees.