One arrested following chase, standoff near Graceville, Minnesota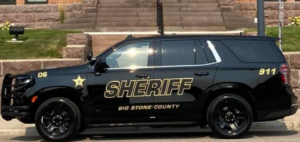 ORTONVILLE, Minn. (KVRR-KWAT) – One person is in custody following a motor vehicle pursuit and standoff that ended early Tuesday morning in Big Stone County.
Sheriff Mark Brown says it began around 10:30 p.m. Monday, when his office was alerted of a vehicle pursuit that was crossing the state line from Roberts County into Traverse County.
The pursuit involved a car that had fled from an attempted traffic stop. It eventually made its way into Big Stone County on Minnesota Highway 28, where spike strips were placed on the west edge of Graceville.
The car became disabled a mile east of Graceville, where deputies conducted a felony stop. The driver of the car remained in the vehicle, refusing to follow law enforcement commands.
Phone communication was eventually made with the driver, which led to confirmation the driver was armed. After 90 minutes of negotiations, the driver surrendered and was taken to the Kandiyohi County Jail in Willmar.
A search of the car turned up a knife, syringe, and a small amount of a controlled substance.
Brown did not release the name of the person arrested.