Deal Reached On Income And Property Tax Relief at N.D. Legislature
House Fails to Override Burgum Veto on Private School Tuition Bill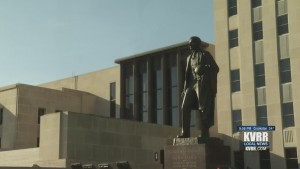 BISMARCK, N.D. — North Dakota House and Senate negotiators have agreed on a big tax cut package that includes both income tax and property tax relief.
The plan would reduce existing income tax brackets from five to three.
Income taxes on the lowest bracket would be eliminated.
That would be for single filers under $45,000 a year and married couples making under $75,000.
For property taxes, homeowners would be able to claim a $500 credit on their primary home beginning in 2024.
It also expands the homestead property tax credit.
The bill comes with a $515 million price tag and still needs to be voted on in both chambers.
In other action, Gov. Doug Burgum's veto of $10 million for private school tuition stands as the House fails to override it.
The vote was 52-31 with two-thirds needed for an override.
Burgum has vetoed 6 bills so far with 2 being overridden.