Treating Ash Trees As Emerald Ash Borer Spreads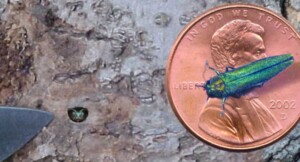 FARGO, N.D. (KVRR/KFGO) — The discovery of the tree-killing emerald ash borer in Moorhead has crews busy in Fargo.
The pest has not yet been detected in Fargo but City Forester Scott Liudahl says it's only a matter of time.
The department has replaced several thousand boulevard ash trees in the last decade and diversified with other tree species.
Crews have identified ash trees that are good candidates for treatment along Elm Street, Broadway, 10th Street North and 17th Avenue South.
Those that are not good candidates for treatment will eventually be cut down to prevent significant losses later as the ash borer spreads.