Ex-cop convicted of aiding George Floyd's killing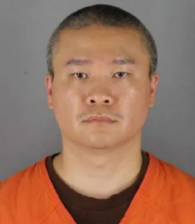 MINNEAPOLIS (AP) — A former Minneapolis police officer who held back bystanders while his colleagues restrained a dying George Floyd has been convicted of aiding and abetting manslaughter.
Tou Thao, who already had been convicted in federal court of violating Floyd's civil rights, was last of the four former officers facing judgment in state court in Floyd's killing. He rejected a plea agreement and, instead of going to trial, let Hennepin County Judge Peter Cahill decide the verdict based on written filings by each side and evidence presented in previous cases. His 177-page ruling, filed Monday night, was released Tuesday.
"Thao's actions were not authorized by law. … There is proof beyond a reasonable doubt that Thao's actions were objectively unreasonable from the perspective of a reasonable police officer, when viewed under the totality of the circumstances," Cahill wrote.
Prosecutors argued in their filings in January that Thao "acted without courage and displayed no compassion" despite his nearly nine years of experience, and that he disregarded his training even though he could see Floyd's life ebbing away.
Chauvin, the senior officer at the scene, was convicted of murder and manslaughter in April 2021 and later pleaded guilty in the federal case. Two other officers — J. Alexander Kueng and Thomas Lane — pleaded guilty to state charges of aiding and abetting manslaughter and were convicted with Thao in their federal case.
Unlike the other three former officers, Thao maintained that he did nothing wrong. When he rejected a plea deal in state court last August, he said "it would be lying" to plead guilty.
Defense attorney Robert Paule argued that the state had failed to prove beyond a reasonable doubt that Thao knew that Chauvin was committing a crime or that Thao intended to help in a crime.
"Every one of Thao's actions was done based upon the training he received from the Minneapolis Police Department," Paule wrote.
He argued that Thao "reasonably believed" that Floyd was experiencing a disputed condition known as "excited delirium" that some medical examiners have attributed as a cause of other in-custody deaths, particularly when someone has taken drugs. Paule said the actions Thao took were aimed at helping to get Floyd medical attention quickly. He said Thao was not aware that Floyd was not breathing or had no pulse.