Gov. Burgum Signs Anti-Trans and Indian Child Bills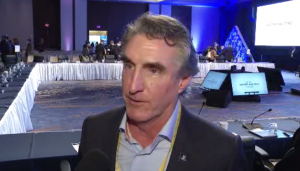 BISMARCK, N.D. (KVRR/AP) — North Dakota's biennial legislative session wrapped up it's work last weekend but Gov. Doug Burgum is still signing bills.
It is now law for public school teachers and state government employees to ignore the pronouns their transgender students and colleagues use.
The bill requires teachers to tell a parent or legal guardian if the student identifies as trans.
It also prohibits those students from using the bathroom of their choice without prior approval from a parent or guardian.
It is effective immediately.
Democratic -NPL Chair for North Dakota, Adam Goldyn, issued the following statement: "This legislative session was exhausting and downright terrifying for North Dakota's LGBTQ+ Community. Republicans used to believe in limited government and personal freedom. In signing these bills, Burgum once again betrays those ideals."
Burgum also signed a bill to protect tribal cultures by codifying the federal Indian Child Welfare Act into state law.
Enacted in 1978, it gives preference to Native American families in foster care and adoption proceedings of Native children.