Driver accused of dragging Fargo police officer, and striking pedestrian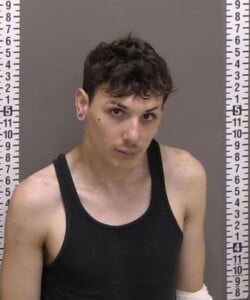 FARGO (KVRR-KFGO) – A Fargo man was arrested and is facing a number of charges following an incident early Saturday morning in north Fargo.
A police officer noted a suspicious vehicle parked in the 1200 block of University Drive North shortly after midnight. The officer approached the vehicle and told the man to respond but he didn't answer. He then opened the car door to remove the driver when the driver put the vehicle into drive and sped off, crossing North University and then onto a sidewalk.
The officer was dragged a short distance by the car and sustained minor injuries. The driver also struck a pedestrian on the sidewalk, crashed the vehicle into a tree, exited his vehicle, and attempted to flee.
Police quickly arrested the suspect, identified as 30-year-old Richard Nunez, charged with Possession of Drug Paraphernalia, Possession with Intent to Deliver Opiates, Felony Fleeing from Law-Enforcement, Reckless Driver, Driving Under the Influence Resulting in Bodily Injury, Felony Reckless Endangerment and Driving Under the Influence. It's Nunez's 4th Offense.
Police found approximately 190 M30 pills and $1500 in cash in Nunez's car.
The victim has been identified through a GoFundMe account as Wayne Zeretzke.
It says Wayne was taken to Sanford Hospital where he had surgery to put his spine in alignment.
He will be unable to work while he recovers and has no income coming in.
He is reported in stable condition.
We have a link to the fundraiser here.