Wrigley to discuss police use of deadly force during Friday's mass shooting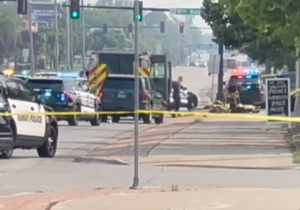 BISMARCK, ND (KVRR) – Attorney General Drew Wrigley will hold a news conference in Fargo Wednesday to discuss last week's use of deadly force by Fargo Police Officer Zach Robinson.
On Friday, July 14, Robinson shot and killed Mohamad Barakat, the gunman who opened fire and shot three police officers and a woman last Friday in south Fargo.
Police Officer Jake Wallin died. Officers Andrew Dotas and Tyler Hawes were critically injured and hospitalized. Twenty-five-year-old Karlee Koswick was hospitalized in fair condition.
The news conference will be held at 3:00 pm at Fargo City Hall.  Wrigley plans to hold another news conference Friday to discuss more details surrounding the entire incident and the ongoing investigation.