Man who shot Fargo officers searched internet for 'kill fast' and for crowded area events, AG says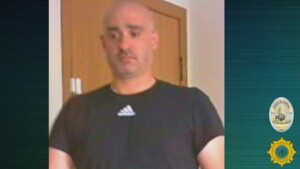 FARGO, N.D. (AP) — The man who shot three Fargo police officers and a civilian, killing one of the officers before an officer killed him, searched the internet for terms including "explosive ammo" and "kill fast," as well as for what crowded area events might be happening, authorities said Friday.
Mohamad Barakat also used a "binary trigger" that allowed him to fire rapidly during the July 14 attack, state Attorney General Drew Wrigley said at a news conference. Wrigley said the .223-caliber rifle that Barakat used during the ambush sounded like an automatic weapon because of how quickly it fired.
Barakat killed one officer and wounded two others and a civilian before the fourth officer at the scene, Zach Robinson, shot and killed him as bystanders crouched in fear nearby.
Police were investigating a routine collision on a busy Fargo street when the heavily armed Barakat opened fire on them before they could react, said Wrigley, who noted that the wounded officers all fell in quick succession.
Wrigley said he believes the violence could have been the beginning of a bigger attack, as the Downtown Fargo Street Fair and the Red River Valley Fair were underway.
He said Robinson was the "last man standing" between the "horrible events" that Barakat had planned that day.
As for motive, Wrigley said Barakat was driven by hate and wanting to kill, and that he wasn't particular about which group or individual.
Barakat briefly trained as an emergency responder at a nearby community college. He had no criminal record or social media presence and had little contact with other people, Wrigley said.
On the day of the attack, Barakat brought a suitcase stuffed with weapons and more than 1,800 rounds of ammunition from his apartment to his car and set off on a drive, Wrigley told reporters Wednesday in the most detailed update yet.
About 2 miles from his home, Barakat came across the fender bender and pulled over to watch from his parked vehicle, authorities said. With police and firefighters busy helping, Barakat watched for minutes until the officers walked by his vehicle, and when they were about 15 to 20 feet from him, he lifted the .223-caliber rifle out of his car window and began firing in what Wrigley called "an absolute ambush" and "a murderous barrage of fire."
The officers "had no time" to reach for their holstered guns because Barakat's fusillade was so rapid, Wrigley said.
Barakat killed Officer Jake Wallin, 23, who served in Iraq and Afghanistan with the Minnesota Army National Guard, and wounded Officers Andrew Dotas and Tyler Hawes. Wallin and Hawes were so new that they were still undergoing field training.
Barakat also hit Karlee Koswick, who was involved in the traffic collision, with two rounds as she ran away.
Robinson, who was in the street about 75 feet away from Barakat, "was the last man standing between what was coming next and what you can see this assailant was armed for," Wrigley said. He moved from behind a vehicle involved in the crash and fired at Barakat. One of his shots disabled Barakat's rifle, leaving 20 rounds unused after the killer fired 40.
"We have three officers down; send everybody," Robinson said over the radio, after moving closer and noticing the fallen officers.
A wounded Barakat lay on the ground protected by his car, waving a 9 mm handgun. Robinson moved closer, calling out 16 times for Barakat to surrender.
Robinson came around the vehicle and gave one last command to Barakat to put down the gun before shooting him, said Wrigley, who called Robinson's use of deadly force "justified."
Lasting about two minutes, the gunfight was still longer than most, David Zibolski, the police chief of North Dakota's largest city, said Wednesday. Wrigley noted that Robinson fired approximately 30 rounds and had to stop to reload.
Zibolski said it might have been worse had there not been emergency crews already there, including an ambulance. As soon as the firing stopped, "firefighters bounced out and they were applying first aid immediately to our officers," Zibolski said.
Inside Barakat's vehicle, investigators found a homemade hand grenade as well as a vest with loaded magazines, more firearms and gasoline canisters, authorities said. There were more weapons back at his apartment.
"When you look at the amount of ammunition this shooter had in his car, he was planning on more mayhem in our community," Fargo Mayor Tim Mahoney said Wednesday.
As the state Bureau of Criminal Investigation and the FBI work on the case, the wounded are recovering, their conditions good or stable. Meanwhile, a funeral service is planned for Saturday for Wallin, whose body was cremated in his police uniform.