Fargo Brothers Arrested for Gun Incidents Sunday and Monday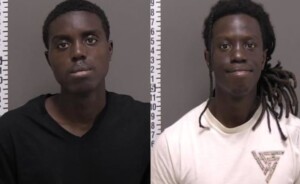 FARGO, N.D. (KVRR) — Two brothers from Fargo are arrested for gun incidents Sunday morning and this afternoon.
Cass County Sheriff's Office and West Fargo Police responded to an apartment complex in the 2200 block of 6th Avenue South after a man fired a shot in the hallway.
Monday afternoon, officers responded to an apartment complex in the 700 block of 23rd Street South after a man reported being assaulted by a man with a handgun.
24-year-old Pasqual Lawia was arrested several blocks away.
The victim has non-life-threatening injuries.
Pasqual's brother, 26-year-old Mark Lawia, was arrested in connection with the morning shooting incident.
Mark's gun was seized at the scene of Pasqual's arrest.
Both men face several charges.