Pilot of crop spraying airplane makes emergency landing near Wahpeton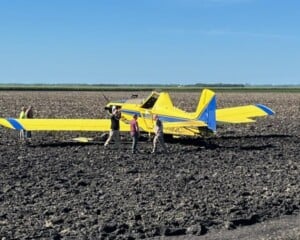 GREAT BEND, N.D. (KVRR-KFGO) – A crop spraying pilot is okay after landing his plane on a highway a couple of miles east of Great Bend, southwest of Wahpeton.
Richland County Sheriff Gary Ruhl said the pilot reported that his engine failed Tues. morning. Ruhl said he managed to land the aircraft on County Road 16 and the engine restarted as he touched down. The plane then skidded into a muddy field. He said there appeared to be propeller and engine damage.
County Emergency Management Director Brett Lambrecht said the plane was expected to be towed to the airport in Wahpeton. The pilot works for Dakota Ag. Spray of Wahpeton.
The sheriff's dept. and Great Bend Fire Dept. responded to the scene. The State Patrol was also notified.