Rebates are landing in the bank accounts of Minnesota taxpayers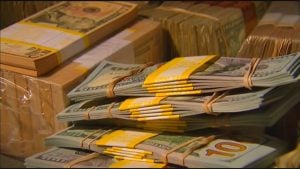 ST. PAUL, Minn. (AP) — Income tax rebates of $260 for individuals and up to $1,300 for families of five are already starting to show up in the bank accounts of about 2.1 million Minnesota residents, officials said Wednesday.
The rebates, adding up to about $1 billion, are part of legislation signed by Democratic Gov. Tim Walz in May to return a portion of a projected $17.6 billion budget surplus to taxpayers. He said at a news conference that the aim of the rebates and the rest of package was to "make life more affordable for middle-class Minnesotans."
Payments of $260 will go to individuals whose adjusted gross income in 2021 was $7,500 or less. Married couples who file jointly and had adjusted gross incomes of $150,000 or less will get $520. Eligible families will also get another $260 per dependent, up to three, for a maximum of $1,300.
However, taxpayers with incomes above those caps won't get anything because Walz and Democratic legislative leaders wanted to target the money for middle- and lower-income taxpayers.
Revenue Commissioner Paul Marquart told reporters the first 200,000 or so payments landed in bank accounts Tuesday night. He said his department hoped to send out another 600,000 to 700,000 by the end of the day Thursday, and to finish with all the direct deposits Friday.
Then his department will start issuing around 950,000 checks on Friday, Marquart said. He added that they hope to finish mailing them out within a couple weeks. They'll be sent to the addresses that taxpayers used on their 2021 tax returns unless they updated their addresses by the July 28 deadline.