Man sentenced to 5 years for running down, killing man after North Dakota street dance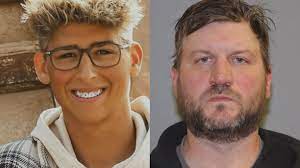 CARRINGTON, N.D. (KVRR-KFGO) – A case that captured national attention last fall came to a close in Foster County Friday when a judge sentenced 41-year-old Shannon Brandt to five years in state prison for hitting and killing 18-year-old Cayler Ellingson with his SUV after a street dance in the small town of McHenry last year.
Brandt will get credit for time-served under house arrest, which will reduce his jail time by nearly a year. He will then serve a period of supervised release.
Brandt was initially charged with intentional homicide in the case, after a state trooper's report that Brandt and Ellingson had gotten in a political argument which escalated. That report was later discounted, but not before conservative political figures, including former President Donald Trump, and some media outlets seized on it to advance a narrative of left-wing violence.
The State Medical Examiner's Office later concluded it was an accident and that Brandt was trying to escape a confrontation with Ellingson when he ran him over.
State's Attorney Kara Brinster requested five years incarceration with credit for time-served and three years of supervised release.  She alleged that Brandt's statements to investigators didn't align with the evidence in the case and that he didn't take sufficient accountability for Ellingson's death.
Brandt's defense attorney, Mark Friese, said Brandt's story had been consistent and that was the one to call 911 when he realized what he had done and stayed on the scene. He asked the judge to impose a sentence of 18 months with credit for nearly a year he's already spent under house arrest.
A psychological exam of Brandt and subsequent report by experts was central to both the prosecution's and the defense's arguments, as well as the judge's decision. Cruff spent a significant portion of his sentencing, addressing Brandt's autism diagnosis, which the experts said impacted his ability to interpret social situations and prompted an exaggerated reaction and response to the confrontation with Ellingson. Cruff faulted Brandt for consuming alcohol which the judge said Brandt knew amplified his reactions.
"You didn't intentionally run him over. I acknowledge that. I understand what the experts in this case are saying about how your mind works. And you didn't intentionally kill Cayler. But he did die. And that's a result of your alcohol consumption. You recklessly pushed Cayler to the ground with your SUV, you recklessly ran him over, and you recklessly killed him," Cruff said. 
A number of Ellingson's family members addressed the court, including three of his aunts and his father, Cole.
Ellingson's mother, Sheri, asked Cruff not to follow the plea agreement and to give Brandt the maximum sentence for manslaughter, which is ten years.
"Shannon, you took a piece of our family that's not replaceable. When you chose to take Cayler's life and happiness you took ours too. You have caused our family endless pain, heartache, sleepless nights. Our days, months, and years will never be the same because of your selfishness," she said.
Brandt addressed the courtroom prior to his sentencing, saying he'd learned a lot of hard lessons.
"I'm here to take responsibility for the role I played in this tragedy. I've very sorry to the Ellingson family, my family, and anybody else that has been affected by my actions. I have always enjoyed seeing the Ellingsons and would never have intentionally caused harm to any of them. I am truly devastated by the impact this has had on the entire community," Brandt said.