More details released from deadly pickup-school bus crash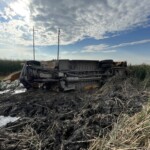 PETERSBURG, N.D. (KVRR/KFGO) – The Highway Patrol releases more information about the deadly crash involving a school bus and pickup south of Petersburg in northeast North Dakota Thursday afternoon.
The pickup was heading west on County Road 4 and crossing Highway 32 when it was hit on the driver's side by the bus.
The driver of the pickup, 68-year-old Archie Gronvold of Barton, North Dakota died at the scene.
There were 25 girls between the ages of 14 and 17 from the Hatton-Northwood volleyball team and two women on the bus.
The driver, 56-year-old Shari Bilden of Northwood, and team coach, 25-year-old Jana Mehus of Hatton were among those hurt. It's unclear how many of the girls were hurt, but none suffered life-threatening injuries.
The team was traveling to a match in Petersburg.
Over 20 agencies responded to the scene.
The crash is under investigation.