Former Sawyer Superintendent Guilty of Sex Crimes Wants Electronics Returned
Soper says since the trial is over, the state should return a computer, iPad and a cellphone to his family members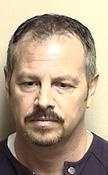 A former school superintendent in Sawyer who pleaded guilty to sexually abusing three teenage boys wants his electronics returned.
Charles Soper argued in court Tuesday that the state should return a computer, an iPad and a cellphone to his family so they can sell or use the devices.
A Ward County deputy state's attorney argued the computer and iPad both contain child porn and should be destroyed.
The Minot Police Department wants to keep Soper's cellphone to use as a training tool.
Soper resigned from the school after his arrest in 2015.
He is serving 35 years in prison for the sex crimes.