Remembering David Lynch: The Story Behind His School Badge
The Meaning of David's "School Badge"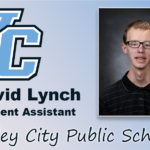 Valley City High School shared with us a touching story about David.
The freshman passed away earlier this week after a medical episode at the high school.
This story on how David received a "school badge" was posted to the Valley City High School Facebook page.
One day this fall David approached our school superintendent, Mr. Johnson, in his office and curiously asked how he could go about getting one of those "School Badges". Mr. J informed David that the badges were worn by staff who worked at the school and could help them be identified. David, not accepting this response, explained that he too "worked" at the school and therefore should have a "School Badge". After thinking about David's …statement and realizing that David did indeed work at the school, the decision was made that people NEEDED to know who he was. On Thursday, November 17, 2016 David and all of his classmates were presented with their "School Badges". David wore his "School Badge" with pride and wanted everyone to know that David Lynch, Student Assistant, was a Hi-Liner and worked at Valley City Public Schools. Today, David's "Badge" is symbolic of a young man who made a difference in the lives of others. Valley City Public Schools will forever be a better place because of David Lynch. In the weeks, months, and years to come, David's "School Badge" should serve as a reminder to treat others how David treated us.
A service for David will take place tonight with a funeral Monday.
Valley City Public Schools, the Valley City Open Door Center, and the Sheyenne Valley Special Education Unit are holding a celebration of life memorial service for Valley City High School freshman David Lynch. 
The service will be held in the Valley City High School Theatre on Thursday February 2nd at 7:00pm. 
Funeral arrangements for David Lynch will be held on Monday February 6 at 11:00AM at Cavalier Baptist Church in Cavalier, ND.