British Parliament Debates Banning Mandatory Workplace High Heels for Women
Women were told female workers had to regularly re-apply their makeup, have no visible colored roots when it came to their hair, wear non-opaque tights and always wear shoes with a heel between two inches and four inches only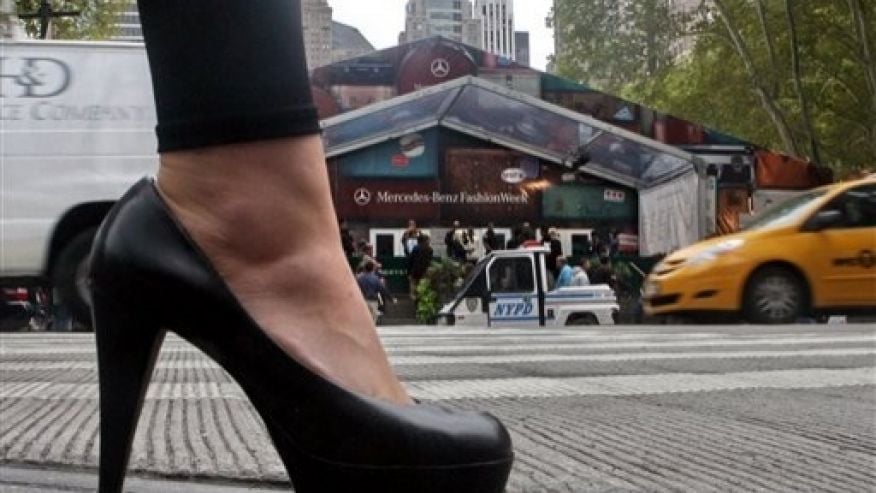 LONDON — When Nicola Thorp was sent home for wearing flat shoes to her job as a receptionist in London's financial district, she realized it was her fingers that needed to do the walking.
Thorp started an online campaign to put an end to what she called an "outdated" and "sexist" dress code for women in the corporate world.
It was her employment agency, Portico, that had set the standard dress code for women.
Women were told female workers had to regularly re-apply their makeup, have no visible colored roots when it came to their hair, wear non-opaque tights and always wear shoes with a heel between two inches and four inches only.
As soon as Thorp put her petition together, more women came forward, saying they, too, had been forced to wear specific footwear or dress and act a certain way to be more "feminine" in the workplace.
More than 150,000 signatures later, Thorpe was able to present her petition to the British Parliament and ask them to submit an update to their Equality Act of 2010, which prohibits discrimination in the workplace on the basis of gender, age and sexual orientation.
People who work in London in the corporate world say they are okay with the government trying to change the standard.
"I think that women, and men for that matter, should be free to wear whatever they want to wear at work," said Peter Griffin, who is a lawyer working in London. "I think if a company was to impose a requirement that women wear high heels for their work that would be utterly abhorrent, and wrong. So I strongly hope that the government would take steps to prevent that sort of thing happening."
Banker Dan Matthews agreed. "I don't think women should be forced to wear high heels. I think there have to be some expectations of a dress code to a certain degree. I don't think you can get away with wearing swimwear, for instance, at work."
But Penelope Mantzaris, a company director working in the city says it does open the door to other arguments.
"I think people can make the same arguments about men in suits and ties and is it necessary," she said. "Maybe for people who are client-facing it's different because it's part of the brand of the company."
Matthews said Mantzaris has a point…but that it ultimately is the choice of the employee in the long run. "You could choose to work for a firm that doesn't insist on wearing suits. So I suppose it's slightly contradictory in a way because in one respect I'm saying that, you know, we men should be required to wear a suit and tie, but women shouldn't wear high heels. But I think that's just where the line happens to be at the moment."
Others said it is more of a health issue for some.
"I never wear high heels," said Chantal D'Offay, a researcher working in London. "In fact, I went to a client meeting now and bought flats, smart flats, especially, because I can't walk in them (high heels). I really don't have a good back, so I would never wear them. But I do think that if some women want to wear them that's completely their choice, but I don't think it should be something that's obligatory."
According to the American Osteopathic Association, wearing high heels on a regular basis can lead to long-term health effects dealing with the feet, ankles, back and knees.
In January of 2017, two parliamentary committees investigated Thorp's case.
The investigation concluded that Portico had broken the law by sending Thorp home because she didn't come to work in her heels.
Since then, company officials said they changed their policy to a more "gender-neutral" dress code.