Watch LIVE! Minnesota DNR EagleCam
DNR officials say there could be three chicks by the weekend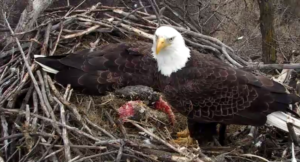 MINNESOTA — The chick has arrived!
The Minnesota DNR's EagleCam showed that the first chick of 2017 came into the world this morning.
Biologists were concerned that the first egg might not hatch, as it was left in the cold for quite some time immediately after hatching.
A second egg has a pip, a scientific term for the hole a chick makes, that is getting larger.
DNR officials say there could be three chicks by the weekend.