FPD Annual Report: Violent Crimes on the Rise, but so are Efforts to Fight Them
Major crimes in the city increased by 12 percent while petty crimes dropped by four percent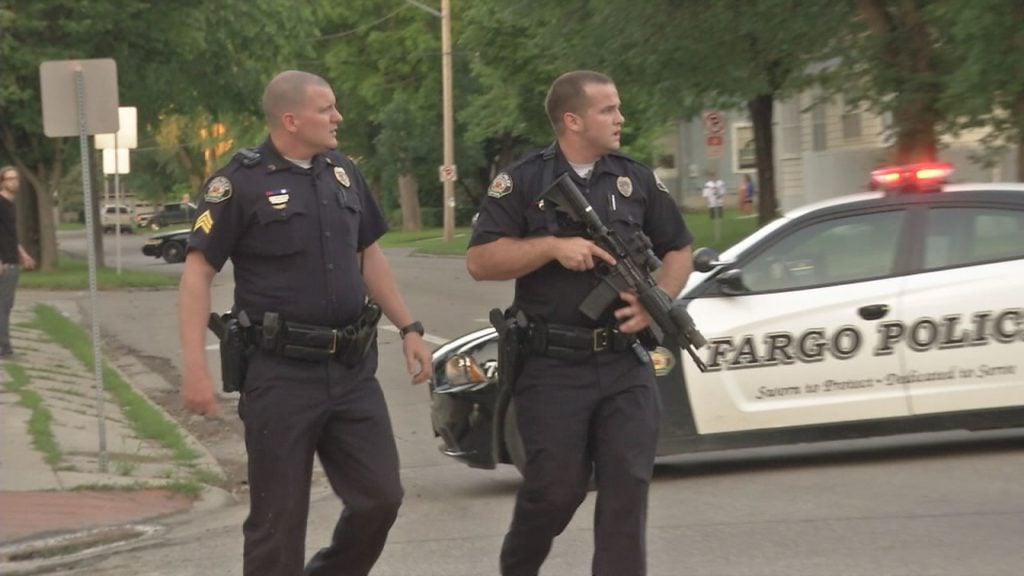 FARGO, N.D. — The Fargo Police Department has released its 2016 Annual Report to the public.
Police Chief David Todd said 2016 proved to be a "difficult and challenging year" as the department continues to work through the death of one of their own, Officer Jason Moszer.
Officers responded to 78,784 calls in the city, which are up by about five percent since 2015.
The report stated crime in the city has increased by three percent and major crimes, including homicide, gross sexual imposition, robbery and aggravated assault, have increased 12 percent from 2015.
There is some good news in the report.
Petty crime has decreased, participation in officer community programs is on the rise and the department received an Upper Midwest Emmy for their PSA titled "LockItOrLoseIt: Be Safe or Be Sorry".
If you would like to read a copy of the full report, click on the link above.
Here is a breakdown of some of the key points put into the report.
Internal Department Investigations
At a time when those who wear the badge are being scrutinized for each action they take, the report stated the department reviewed 98 incidents that involved 114 officers.
Of those 98 incidents, authorities investigated 63 for the use of force and found all but two situations were within the department's policy and were handled appropriately.
There were 33 crashes that involved officers and 23 of them were determined to be "preventable".
Two police pursuits were reviewed and only one was found to be outside of policy.
In 2016, there were a total of 22 personnel complaints and after an investigation into each one, 20 of them were determined to be valid.
Officers were either given a verbal or written reprimand or ordered to undergo additional training from these incidents.
According to the report, no one was fired or put on suspension for any complaint or internal investigation in 2016.
Major Crime on the Rise in Fargo
Fargo police responded to three homicides in 2016 and their investigations resulted in arresting a suspect in two of them.
On May 16th, police responded to a townhome on the 1500 block of 34th Street South and found 40-year-old Corey Terlecky dead.
They arrested 22-year-old Landon Lauwagie, who pleaded guilty to her murder in March of this year and will be sentenced in May.
On December 24th, 2016, police responded to a home after a report of a domestic dispute.
They found 26-year-old Derek Bjarnason with a stab wound to the chest and arrested 31-year-old Timothy Porter for the crime.
Bjarnason died from his injuries and Porter is pleading not guilty.  His next court date is scheduled for April 5th.
The Annual Report also stated 18 people were arrested during Operation Guardian Angel, a sting operation in which investigators targeted adults who wanted to engage in sexual acts with minors.
According to the report, there are currently more than 200 sex offenders being monitored by the department.
The Metro Street Crimes Unit also reported they made 27 arrests during Operation Winter Harvest in which they worked closely with the U.S. Marshals Service and went after those who had a felony warrant for crimes concerning gangs or firearms.
The Narcotics Division reported a rise in the use of opioids among people in Fargo.
They investigated 66 opioid overdoses, 13 of which resulted in deaths.
Of those 13 deaths, 15 people have been indicted and authorities say they expect more indictments to come in 2017.
After the execution of 111 search warrants, the Narcotics Division seized $50,000 in cash, three vehicles and several firearms.
The report stated the K9 Unit, which consists of three teams, was deployed 503 times, 417 of which were utilized in narcotics investigations.
Traffic Crimes Decreased in 2016
The report stated traffic crimes saw a 15 percent decrease from 2015 and DUI arrests were also down 19 percent.
With the Drive Sober or Get Pulled Over campaign, police issued 226 citations that resulted in 48 DUI arrests.
The Click It or Ticket campaign resulted in 443 citations, 168 that were for texting and driving.
Out of 214 citations issued for distracted driving, 89 were for texting.
Officers also fined 101 trucking vehicles for discrepancies in weight or being overweight, netting $93,645.
Good News in the Report
Even though the report stated there are multiple major crimes on the rise in the city, the department has many good things to report.
The department's police training program grew from 20 trainees to more than 30.
The Downtown Community Work program, developed by Officer Jessica White, is designed to keep repeat offenders, who commit petty crimes and can't pay the fines, out of jail.
Instead, these offenders do community service projects and in turn can be connected with programs that help with addiction, mental health and securing a place to live.
According to the report, this program caused a 50 percent drop in "recidivism", which is the likelihood an offender will commit their crime again, for those committed to the program.
School Resource Officers have started "Cop Talks" at Davies and Fargo North.
These talks are informing students about their rights during a traffic stop, search of their vehicle or home and many other topics, including police use of force and why it is done in certain situations.
After the increase in opioid abuse in the community, the Fargo Police Department teamed up with other local agencies and lawmakers to begin a series of forums, called "Eyes Wide Open", in an effort to educate the public and stop overdose deaths in the community.
The report also stated thanks to the weekly "Felony Friday", 49 felons were captured in 2016, bringing the total number of arrests to 502 since the program started.
The total yearly budget for 2016 was just over $18 million and the report stated the department finished 2016 at under $17.9 million.