Moorhead Man May Face Charges In BB Gun Incident
The incident was reported around 5 p.m. at a home at 601 3rd Street South.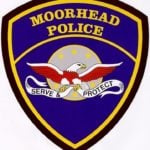 MOORHEAD (KFGO) – Some tense moments in Moorhead Sunday afternoon as police surrounded a Woodlawn Park neighborhood following a 911 call about a man waving a gun.
The incident was reported around 5 p.m. at a home at 601 3rd Street South.
Three adults were detained as police investigated and found two BB guns.
The suspect in the incident, 28-year old Ronald Geri, of Moorhead may be cited for violating Moorhead's weapon's ordinance on replica firearms.
A woman in the home was arrested on an unrelated outstanding warrant
According to a release from Moorhead Police:
At about 4:58 pm this evening, Moorhead Police Officers responded to the intersection of 6th Avenue South and 3rd Street South on a report of a disturbance involving a male with a handgun. The caller reported a male waving a black handgun in the air.
 Officers located three adults outside the residence identified as 601 3rd Street South. One adult male matched the description given by the caller. All three adults were cooperative with police directions and were detained while the investigation was conducted. Two facsimile BB guns were located during the investigation. An adult male, Ronald Linous Geri (28) of Moorhead, was identified as the suspect in this incident.  The investigating officer is considering issuing Geri a citation for a violation of the City of Moorhead Weapons Ordinance related to Facsimile Firearms. This incident was resolved by the officers at the scene.
During the investigation, Shaquanna Janee Touray (31) of Moorhead was arrested on an unrelated outstanding arrest warrant. Touray was transported to the Clay County Jail pending posting bail or appearing in court.