"Mind Over Marathon" BBC Documentary on the Silence of the Mental Health Struggle
Prince William says this topic is especially close to his heart after his brother struggled silently with his mental health for more than 20 years after the death of their mother, Diana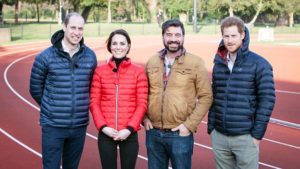 INTERNATIONAL — Prince William is calling a new BBC documentary on mental health "amazing" because it gives those struggling silently with mental health a voice.
The Duke of Cambridge was a guest speaker after a special screening of the movie and addressed many of the documentary subjects.
He says this topic is especially close to his heart after his brother struggled silently with his mental health for more than 20 years after the death of their mother, Diana.
He says he wants people to treat mental health the same way as physical health because then everyone can feel comfortable talking about it and not feel ashamed.
"Working with the Air Ambulance at the moment, I've seen a number of sad situations that have come from suicide particularly, self-harm," explained Prince William. "I think it's just a tragedy that we're not talking about this at all. The more people we can get to talk about mental health, the better because the silence is killing people. It really is."
The BBC documentary two-part special "Mind Over Marathon" begins April 20th.
If you would like more information or to find out when you can watch it online, click here.