Minnesota Couple Accused of Recruiting Teen for Swinger Lifestyle
The charges allege the Germains set up a "sex room'' in the attic of their home's detached garage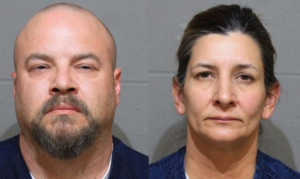 GOODHUE, Minn. — A southeastern Minnesota couple is accused of sexually assaulting a teen and trying to recruit her for a swinger's lifestyle.
Michael Germain, 43, and 49-year-old Heather Germain of Goodhue appeared in court Monday.
They face charges including criminal sexual conduct and interfering with the privacy of a minor.
The charges allege the Germains set up a "sex room" in the attic of their home's detached garage.
In January, a 16-year-old girl told authorities that Michael had raped her at the encouragement of his wife.