Update: 19 Year Old West Fargo Man Dead
19 year old Alexander Hirn of West Fargo was pronounced dead at the scene.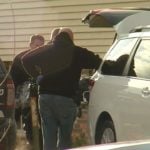 WEST FARGO, ND — West Fargo Police issued a statement saying they were called to 612 6th Street East at 5:20 p.m., on April 27, 2017.
Life saving measures were attempted on two males.
One was transported by ambulance, his condition is unknown.
19 year old Alexander Hirn of West Fargo was pronounced dead at the scene.
Police say evidence indicates this was the result of an exposure to a form of Fentanyl.
West Fargo Fire is decontaminating the scene.
We'll have more on this story tonight on KVRR Local News at Six and Nine.
——–
WEST FARGO, ND — Authorities in West Fargo are being tight lipped after what appeared to be a body being loaded into the back of a vehicle.
They had responded to a medical emergency call at an apartment just before 5:30 this afternoon.
Police at the scene said two men were involved.
No authorities in West Fargo were able to tell us anything else about what happened at the building.
"Came from the top," said Detective Tim Runcorn with the West Fargo Police Department. "We're not releasing anything. We'll let you know in the morning."
Authorities carried what appeared to be a body out of 612 6th Street East in West Fargo.
Officers were then seen inspecting a vehicle marked as evidence.
Earlier that evening, bystanders said a man was taken into an ambulance.
Some neighbors told us drugs have been a prevalent issue in this part of town.
"When I was in eighth grade, there was a syringe needle we found on the ground," said Destiny Riedl of West Fargo. "We called the cops so they could come get it. It's pretty terrible around here. There's little kids and many other adults that don't need that."
The apartment is near L.E. Berger Elementary and the West Fargo police station.
We expect to get more information from authorities at some point Friday morning.
Stick with KVRR Local News for updates on what Detective Runcorn said is still an open investigation.