Drugs Found in Clothing Donation to Once Upon a Child
The drugs were divided up into dozens of little plastic bags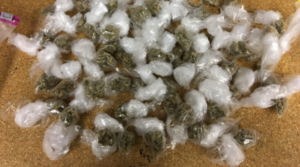 MINNEAPOLIS, Minn. — Workers at a suburban Minneapolis second hand shop found more 100 grams of marijuana in some used children's clothes.
The Maplewood Police Department posted a photo on Facebook of the accidental donation to the Once Upon a Child store with an invitation to the owner to come in and claim it.
The drugs were divided up into dozens of little plastic bags.
The police chief says because it was packaged for distribution or sale, its owner could face a felony charge that would carry a sentence of more than a year in jail.