Protesters Gathering in Wake of Yanez Not Guilty Verdict; Gov. Dayton, Sen. Klobuchar Speak Out
"This system continues to fail black people and they will continue to fail you all." Valerie Castille, mother of Philando Castille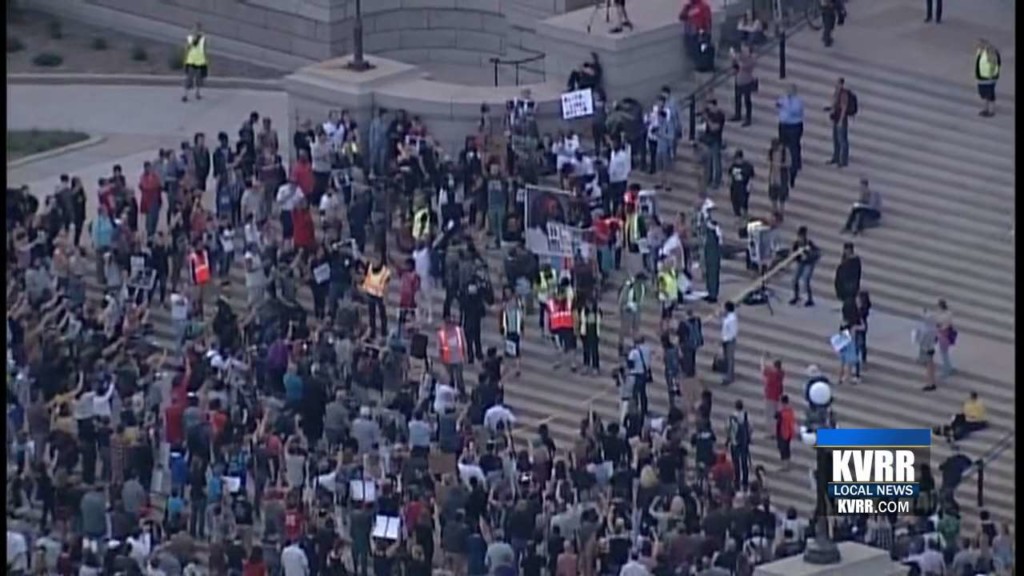 ST. PAUL, Minn. — After five days of deliberation, Jeronimo Yanez was found not guilty on all counts in the shooting death of Philando Castile.
Family members met with reporters after the court case came to a close.
"This system continues to fail black people and they will continue to fail you all," said Valerie Castille, mother of Philando Castille.
Jurors broke their silence after St. Anthony police officer Jeronimo Yanez was accused in the fatal shooting of Philando Castile.
Castile was killed in a traffic stop last July.
Yanez shot him five to seven times while his girlfriend recorded the incident with Facebook Live from the passenger seat.
The officer took the stand and said he was looking for two suspects in a convenience store robbery
Castile apparently matched the description.
Castile told him he had a gun and Yanez said he was reaching for it, despite Yanez ordering him not to.
"For that man to get on the stand and lie… He got caught in three, four, five different lies," said Allysza Castille, Philando's sister. "He seen the gun, the gun was in his pocket."
Protesters are crowding in front of the state capitol upset with the decision.
Although they're disappointed with the results, they feel the prosecution team did a good job.
"What you saw in court this week was a combination of talent and tenacity and I don't know what more could have been done," said Judge Glenda Hatchett, a Castille family spokesperson. "I am disappointed, my heart breaks for this family, my heart breaks for this nation."
"My son loved this state," Valerie said. "He had one tattoo on his body and it was of the Twin Cities. The state of Minnesota with a TC on it. My son loved this city and this city killed my son."
"That was my brother, that was my mentor, that was my father figure, that was everything," said Allysza. "That man worked hard for me every single day. Every birthday, every Christmas."
"He has to answer to someone bigger than all of us," Valerie said. "We're just here. We're just going through this human experience. He will have to face his creator, and I hope he die tonight."
The St. Anthony Police Department has dismissed Yanez from duty despite being cleared of all charges.
The city plans on offering him a voluntary separation.
He will not return to active duty following the court case.
U.S. Senator Amy Klobuchar made a statement on the Yanez ruling: "I got to know Philando Castile's family and he was loved in his school and a tough case for everyone involved. There were top-no prosecutors from the US. Attorneys and the Ramsey Cohen attorney's office that were handling this case. I'm sure we'll learn more about why the jury reached the verdict that they did."
Senator Klobuchar also said she believes in the jury system and said the case has been tough on the Castile family, as well as the whole community.
Governor Dayton said he will do everything in his power to help Minnesota heal and that there are law enforcement officers who are working to correct the injustices in the state.