Cause of Explosion Released at Hankinson Renewable Energy Plant
Both augers were up and running again Sunday afternoon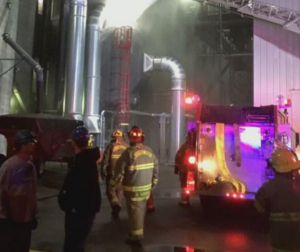 HANKINSON, ND — No one was hurt after a fire and explosion at the Hankinson Renewable Energy Plant.
It was reported Saturday night shortly after 9:30.
Richland County Director of Emergency Services Brett Lambrecht says the majority of the fire was put out within 45 minutes but crews did stay on scene to monitor hot spots.
Lambrecht says the fire started at a bearing on the auger system that moves corn.
Both augers were up and running again Sunday afternoon.
The plant produces ethanol.