Breckenridge Police Car Damaged After Chase
The driver ran from the scene, but was caught and taken for an evaluation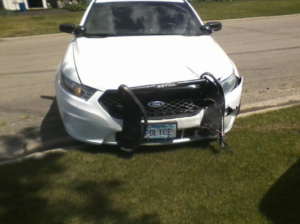 BRECKENRIDGE, Minn. — A Breckenridge police car was damaged in a pursuit that reached speeds of 60 miles per hour.
Police say the chase started at about 11:30 a.m. at Welles Park.
Breckenridge Police and Wilkin County deputies followed the vehicle and a deputy used a pit maneuver to stop it.
The driver ran from the scene, but was caught and taken for an evaluation.
No one was hurt.