Minnesota Runaway In The 1970's Was Victim of Serial Killer
John Wayne Gacy Killed The Teen In 1976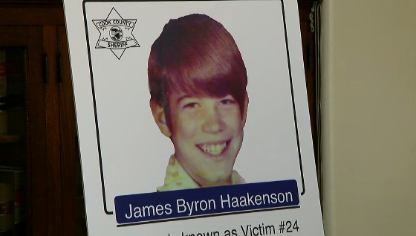 COOK CO., IL — A Chicago-area sheriff has identified another victim of serial killer John Wayne Gacy as a 16-year-old boy from Minnesota.
The victim has finally been identified as James Haakenson.
He ran away from St. Paul and is believed to have been killed by Gacy in August 1976.
The teen's remains were among those of more than two dozen young men found in the crawl space of Gacy's Chicago-area home in 1978.
He's one of eight who were buried without being identified.
Remains were exhumed in 2011 in an effort to identify them through DNA testing.
Haakenson is the second of the eight to be identified.
Gacy was executed in 1994.