From Dance Floor to the Streets: Woman Sets Record for Running Marathon in Heels
She now holds the Guinness World Record for the fastest marathon in heels, making the cutoff by just two minutes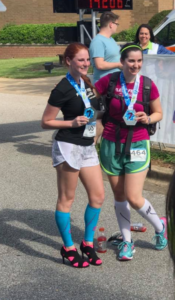 CHATTANOOGA, Tenn. — Finishing a marathon is an accomplishment in itself.
But try doing one in high heels.
Irene Sewell of Tennessee did just that in seven hours and 28 minutes.
She now holds the Guinness World Record for the fastest marathon in heels, making the cutoff by just two minutes.
She used six different pairs of shoes to finish the race, ranging in sizes from seven to nine.
The professional ballroom dancer says she credits her friends who ran alongside her, who dealt with her "ugly crying" and gave her the extra push she needed to cross the finish line.
To see more pictures, click here.