Car/Pedestrian Accident Results In DUI Arrest
The driver, Cole Ledoux, of Fargo, was taken into custody at the scene for DUI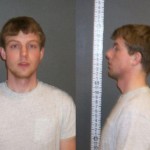 FARGO (KFGO) – A driver was arrested for drunk driving following a car/pedestrian accident in Fargo around 2 a.m. Friday.
Police say the car was turning at the intersection of 32nd Avenue and 39th Street South, just west of the Windbreak when it struck a man walking across the road.
He was taken to the hospital, treated and released.
The driver, Cole Ledoux, of Fargo, was taken into custody at the scene for DUI