The Salvation Army Distributes Christmas Food Boxes to Those in Need
The Salvation Army Gave Around 500 Families in Need Christmas Food Boxes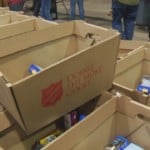 Around 500 families received a box full of food to celebrate Christmas thanks to The Salvation Army.
The boxes included items like ham or chicken, mashed potatoes, milk, bread, and cake mix.
Volunteers from Walmart, Luther Family Ford, and people from the community helped assemble the boxes and deliveries were made for those who could not come and pick up the boxes.
The Salvation Army said that part of the holiday joy comes from a Christmas meal.
"You're satisfied, you're happy, you're content, there's laughter so that's what we're trying to do. We're trying to give them a meal where they can sit back and okay, this is a time for us to have fun, relax, and enjoy our company," Said Major Byron Medlock of The Salvation Army.
The Salvation Army will host their annual Christmas dinner Friday from 11–1 at The Salvation Army.
All are welcome to attend.