Gov. Burgum Accepts Free Super Bowl Tickets From Xcel Energy
Burgum will use the opportunity to talk to the company about ``improving services and infrastructure for North Dakota.''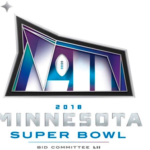 BISMARCK, N.D. (AP) _ Gov. Doug Burgum will watch the Super Bowl from the stadium suite of a Minneapolis-based utility.
The 52nd Super Bowl will be played at U.S. Bank Stadium in Minneapolis on Sunday.
Spokesman Mike Nowatzki says the governor and first lady Kathryn Helgaas Burgum will watch from a suite provided at no cost by Xcel Energy.
The utility serves more than 90,000 customers in Grand Forks, Fargo and Minot.
Nowatzki says Burgum will use the opportunity to talk to the company about "improving services and infrastructure for North Dakota."
Minnesota Gov. Mark Dayton paid more than $6,000 out his own pocket for a ticket to his state's Super Bowl game.