NDSU Students Line Up to Pie Their Professors in the Face
The second annual event raises money for the Boys and Girls Club of the Red River Valley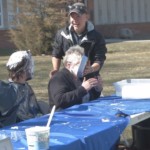 FARGO, N.D. — For the second straight year, NDSU students are smashing pies in their professors' faces.
More than 30 professors volunteered to have their students fill up a pie tin with whipped cream and smear it all over their face.
The event is hosted by the NDSU chapter of Delta Upsilon, and the funds will go to the Boys and Girls Club of the Red River Valley.
Students and professors both say they are happy to support a good cause, even if it meant getting hit with a plate full of whipped cream.
"The Boys and Girls Club, they do an amazing job of providing a lot of different events for kids that don't have a place to go after school for whatever reason that is, and being able to raise money for them is just a great local cause that we support," said Tanner Mjelde, the IFC Representative for NDSU's Delta Upsilon chapter.
In addition to their "Pie–a–Professor" event, NDSU's Delta Upsilon chapter is also hosting an ice cream philanthropy on Thursday at the NDSU Lutheran Center.