PIckup Fire Quickly Put Out In Downtown Fargo
The vehicle fire was on Broadway in Downtown Fargo, right in front of the Subway Sandwich shop.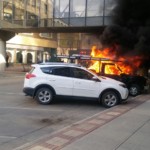 FARGO, ND –A pickup was completely consumed in flames on Broadway in downtown Fargo this morning.
Fargo Fire Department got the call shortly after 9:30.
Crews say their main concern when they got the call was that the fire was right underneath the skyway, which is why they determined it should be a full alarm response. The first engine that arrived to the burning vehicle was able to put it out from under skyway, preventing any damage to the structure.
"The wind definitely plays a little role in the exposure to the skyway. It was coming straight down out of the south so it was pushing the fire right at the skyway. The police department does a good job of shutting down Broadway pretty quick for us we are able to get in and work when we need to. We've had a few fires down here and yeah it's tight but we make it work," Fargo Fire Department Battalion Chief Lee South said.
The cause of the fire is still under investigation.