Don't Throw Out All Of Your Trash Just Yet, FM Metro
Cleanup Week Begins Next Monday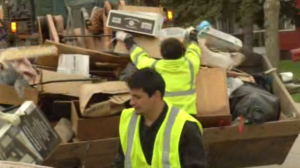 MOORHEAD, Minn. — People in the metro are anxious for the annual Cleanup Week but officials in Moorhead say 'not so fast'.
Cleanup Week is May 7 through the 11.
They ask that you not put your excess garbage out before Sunday since blowing debris, rodents and unsightly conditions are a concern.
If you just can't wait, Moorhead Transfer Station will take your household junk free of charge until May 19.
It'll also be spring cleanup week next week in Grand Forks and East Grand Forks.