Remembering Christopher Bacon: U.S. Army Specialist U.S. Customs and Border Patrol Officer
A family man, the guy who always wanted to take people under his wing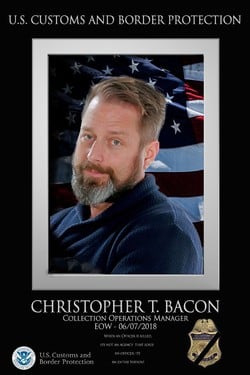 GRAND FORKS, N.D. — After a fatal car crash on June 7th, U.S. Army Specialist U.S. Customs and Border Patrol Officer, Christopher Bacon lost his life.
Family, friends and community members are honoring Bacon at a ceremony at the Alerus Center in Grand Forks.
I spoke to dozens who came out to honor Chris and support his family and although too distraught to speak on camera almost every single person said they'll remember Chris with a big smile.
A family man, the guy who always wanted to take people under his wing.
"He was extremely friendly, tried to get everyone together," said Brian Widner, a retired division chief.
That's how many would describe Chris Bacon.
Not only a supportive husband, father and friend but someone who put his life on the line to protect his country, alongside his brothers in blue.
"It's not a brotherhood it's a family," Widner said.
Standing tall in their uniforms and with heads held high, they say supporting each other is no question.
"That's true all over the country whether that's border control, customs, border protection, with any law enforcement agency," Widner said.
Hundreds poured into the Alerus center in Grand Forks to hear about Bacon's legacy and hear from a pastor who used to be a U. S. Customs & Border Patrol officer himself.
"It's always just amazing people come out and the ceremony is just incredible," Widner said.
Many say Bacon will be remembered as someone who spent 31 years dedicating his career to his country, while also having the biggest heart.
"He was one of a kind that's for sure," Widner said.
Although many say his life was taken too soon they say this ceremony is something they will hold close to their hearts forever.
Bacon will be buried with honors at a later date in June at Fort Sam Houston National Cemetery in San Antonio, Texas.