Pres. Trump In Fargo: If You're Going
A list of do's and dont's courtesy Scheels Arena staff.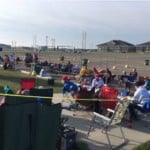 FARGO, ND — If you're planning on attending President Trump's rally at Scheels Arena tonight, here are the do's and dont's and things to know.
PARKING & LINING UP: Parking lots on-site at Scheels Arena will open at noon on Wednesday. Carpooling is highly recommended.  Any vehicles left overnight on Tuesday will be towed Wednesday morning. There will be no charge for parking once lots open up. Patrons are able to line up prior to, but there will be no parking on-site available. The line will start at the entrance to the south main parking lot on the south side of 31st street. The line will be moved up to in front of the doors of the arena sometime during the day on Wednesday.
DOORS: Doors open to the event at 4 pm, with the event starting at 7 pm.
FOOD & BEVERAGES: There will be two food trucks (Texas Q BBQ and Urban Foods Catering) outside of the arena starting at noon on Wednesday, as well as a tent starting at 10 am that will be selling water, fruit and granola bars. There will be water, Gatorade, popcorn and hot dogs available for purchase inside of Scheels Arena. No alcohol will be served.
RESTROOM ACCESS: There will be porta potties for restroom use outside. Inside restrooms will be available to all patrons once inside the building.
HANDICAP ACCESSIBILITY: Handicap accessibility seating and parking is first-come, first-served. There is no early entry for ADA patrons. ADA parking will be available to the Southeast of the arena on the grass berm.
TICKETS AND SEATING: Tickets are needed and this is a first-come, first-serve event. Reserved seating is not available. Seats are also not able to be held. There is no smoking at this event and no re-entry.
PROHIBITED ITEMS:
aerosols
alcohol
backpacks, roller bags, suitcases bags exceeding size restrictions (12"x14"x5")
balloons
balls
banners, signs, placards
chairs (lawn chairs, camping chairs, folding chairs, etc.)
coolers
drones and other unmanned aircraft systems
explosives of any kind (including fireworks)
glass, thermal and metal containers
laser lights and laser pointers
mace and/or pepper spray
noisemakers, such as air horns, whistles, drums, bullhorns, etc.
packages
poles, sticks and selfie sticks
spray containers
structures
supports for signs/placards
tripods
appliances i.e. toasters
and any other items that may pose a threat to the security of the event as determined by and at the discretion of the security screeners.