Grand Forks Police Dealing With Black Bear In Town
Grand Forks Police are asking residents to stay away from University Park.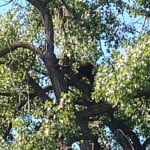 GRAND FORKS, ND — (VIDEO) Grand Forks Police along with Game and Fish officers are working to safely remove a bear near the UND campus.
As of 11:35 a.m. Police said the bear was on the move, and with the help of Game and Fish officers were ushering the bear out of town.
Police say they cannot emphasize enough,  they are trying to resolve this situation peacefully.
We are asking the public to please leave the area, so this animal can be on its way.
The Game Warden is on the scene and developing a plan to remove the bear.
They tell us extra traffic in the area has caused safety issues for officers.