Trump Cabinet Members Travel To North Dakota
Kirstjen Nielsen Visited Grand Forks Thursday, Rick Perry Will Be In Underwood On Monday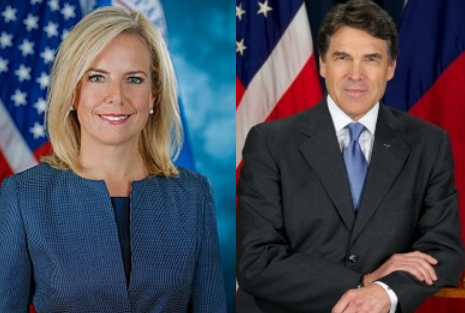 BISMARCK, N.D. — Energy Secretary Rick Perry is scheduled to tour North Dakota's biggest coal mine and adjacent power plant next week.
Sen. John Hoeven and Rep. Kevin Cramer say Perry is scheduled to tour North American Coal's Falkirk Mine and Great River Energy's Coal Creek power station near Underwood on Monday.
Perry will also participate in discussions with local energy officials.
North Dakota has six coal-fueled electric power plants and a factory that produces synthetic natural gas from low-grade lignite coal.
Homeland Security Secretary Kirstjen Nielsen visited Grand Sky Technology Park in Grand Forks on Thursday to see the facility and for a roundtable with local unmanned aerial systems industry leaders.