Democrat Tina Smith Will Face Republican Karin Housley In November
The Women Will Compete To Finish Former Sen. Al Franken's Term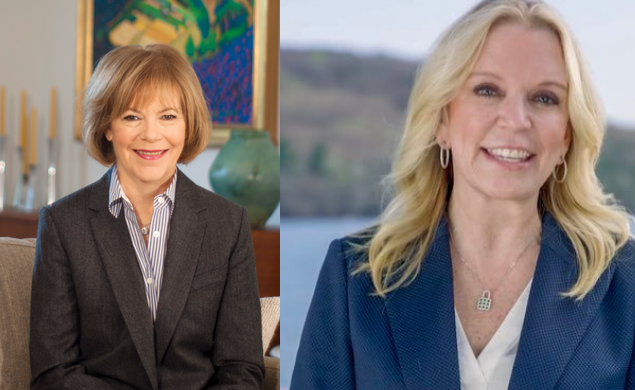 ST. PAUL, Minn. — Sen. Tina Smith easily defeated five other DFL challengers in the Minnesota primary election to advance to the general election in November.
Karin Housley only faced two others in her primary race and easily beat out both.
The women will compete against each other to fill the remaining term of Sen. Al Franken which expires in 2021.
Franken resigned in January 2018 after numerous women accused him of unwanted groping.
Smith was appointed to take his seat by Gov. Mark Dayton.
Both women have released statements about their primary wins.
Sen. Tina Smith released the following statement after winning the DFL Primary for the United States Senate Special Election.

"Tonight, I thank Minnesotans for their support. Every day in the Senate I work for the people of Minnesota – to be your voices in Washington, to find common ground and solve problems, so people have the opportunity – to build the life they want," said Sen. Tina Smith. "I'll work with anyone who wants to work with me to help Minnesotans, and that's what I'm doing in the Senate – whether it's taking on the big drug companies to lower the cost of prescription medicine, passing a bipartisan farm bill that benefits Minnesota farmers and strengthens our agricultural economy, or making sure young people have the skills, education, and training to build a career."
U.S. Senate candidate Karin Housley released the following statement after her primary election victory:
"I'm so grateful to have earned the support of so many Minnesotans – but this is only the beginning. Since we began this journey in December, I've been humbled by the generous spirit of Minnesotans who have welcomed me into their communities to share my vision of a United States Senator that works for the people. Radical partisanship threatens to stand in the way of confronting the many challenges that face our nation – and the people of our state deserve better. I'm running to be a new voice for Minnesotans in the United States Senate – and it's that message of working hard, playing fair, and doing the right thing that will prevail in November."