Primary Election Night in Minnesota
The city of Minneapolis is bearing out expectations of strong turnout for Minnesota's high-interest primary election.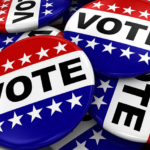 MOORHEAD, MN — Minnesota voters are confronting their busiest primary election in recent memory, with races for governor, both Senate seats and three congressional seats all on the ballot.
The biggest unsettled question may be the Democratic primary to succeed Gov. Mark Dayton. U.S. Rep. Tim Walz, Attorney General Lori Swanson and state Rep. Erin Murphy all had a path to victory.
On the Republican side, former two-term Gov. Tim Pawlenty carried big advantages in money and name recognition against Hennepin County Commissioner Jeff Johnson. County Commissioner Jeff Johnson was the party's endorsed candidate.
Other key races include Senate appointee Tina Smith trying to nail down the nomination to finish the last two years of Al Franken's term. And Keith Ellison, the first Muslim in Congress, is leaving to try for attorney general.
Secretary of State Steve Simon says Minnesota's election security safeguards are in "very good shape" heading into the 2018 elections even though he's been unable to tap federal money for a long-term upgrade project.
Simon says his office has worked with federal and local officials to strengthen the system and minimize any risks. He says officials now know more about efforts by "elements associated with the Russian government" to hack the state's election system in 2016, and how to prevent them again.
But Simon will have to wait until next year for legislative authorization to get a share of the $6.6 billion in federal cybersecurity money. That clearance fell victim to partisan wrangling last session.
Simon wants to use the money for upgrading the software for the state's 14-year-old Statewide Voter Registration System.
The city of Minneapolis is bearing out expectations of strong turnout for Minnesota's high-interest primary election.
The city clerk's office says turnout by early Tuesday afternoon was already well beyond that of the last three primary elections. The city website showed more than 43,000 voters had cast ballots, compared to a little over 35,000 in the 2016 primary and about 29,000 in 2014.
And that's with several hours of voting to go.
Tuesday's ballot had primaries in both parties for two U.S. Senate seats and for governor, and several highly competitive congressional races around the state.
Click Here for a link to election results