Woman Dies In Grand Forks Motorcycle Accident
Renee Lillehaugen was in a group of three bikers riding through downtown on Demers Avenue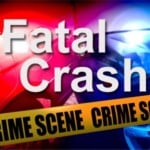 GRAND FORKS, N.D. — A Grand Forks woman is dead after crashing her motorcycle last night.
39-year-old Renee Lillehaugen was in a group of three bikers riding through downtown on Demers Avenue just before 8.
Police say she lost control of the motorcycle, hit a curb and struck a traffic light pole.
Lillehaugen was treated at the scene but later died at Altru Hospital.
The crash remains under investigation.