Fargo McDonald's Murder Suspect Arrested in Southern Minnesota
Gabriel Perez, a 20–year–old, was shot multiple times while sitting on a curb outside of the Main Avenue McDonald's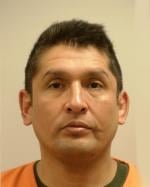 MOWER COUNTY, MINN. – An arrest has been made in the deadly shooting of 20-year-old Gabriel Perez at the Main Avenue McDonald's in Fargo on Sunday.
Fargo Police says 44-year-old Miguel Cooley Sr. of Moorhead was taken into custody by a SWAT Team at a home west of Rochester Minnesota around 7:40 Monday night.
He was taken without incident.
FARGO– Friends and loved ones are grieving the loss of a young man taken too soon.
"The community, everybody is in grief," Perez's friend Simeon Smith said. "I know that for a fact. People that weren't even that close with him are grieving over this because even if you didn't know him, you knew he was a good guy."
Gabriel Perez, a 20–year–old, was shot multiple times while sitting on a curb outside of the McDonald's off of Main Avenue on Sunday morning.
According to Fargo Police, the suspect was in a dark colored Chevy Trailblazer.
First responders tried to save him, but his injuries were too extreme.
"When I first heard about it, I didn't know it was my cousin and then my mom told me and I was shocked," Perez's cousin Dazzarey Perez said. "I don't know, it seems unreal still, but I know once I see him, it's going to hit me."
Dazzarey Perez is one of many grieving at his memorial.
She spent over two hours standing in front of his memorial, holding back the tears.
People who spoke with him on a daily basis are feeling the void of his presence.
"I was kind of hoping to maybe get a text from him saying hey, what's up, but I just don't know why someone would want to do that to him," Smith said. "He never tried to hurt anybody. He always just tried to help. He tried to put his best efforts toward everything he did."
His former classmate felt he owed it to him to spend some time at his memorial.
"It made me realize how many people he knew and how many people knew him," Perez's former classmate Malachi Rohrer said. "Almost everyone at school knows who he is. So, everyone that is around my age that lives around here has been struck by what happened."
Visitors are continuing to leave flowers, photos, and memorabilia for Perez.
"I hope we can help each other heal from this and make each other stronger from this and not let this go down as just another terrible tragedy," Smith said.
Police found the suspect's vehicle in Moorhead on Sunday evening and are still investigating who is responsible for the homicide.