Sen. Heitkamp Will Vote No on Judge Brett Kavanaugh's Supreme Court Nomination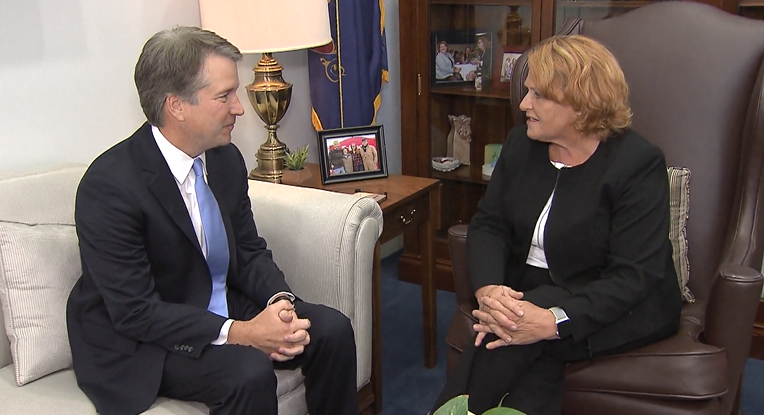 WASHINGTON – North Dakota Democratic Senator Heidi Heitkamp announces she will vote no on confirming Judge Brett Kavanaugh to the Supreme Court.
She says in a statement, "As I said after Judge Kavanaugh was nominated, and as I've continued to say throughout this process, I consider vetting nominees to serve on the U.S. Supreme Court as one of the most important jobs of any U.S. senator – and I take that job very seriously. That's what North Dakotans expect of their senators, which is why I met with Judge Kavanaugh, closely watched his hearings, and reviewed his available record during this evaluation process – including the nonpartisan FBI investigation which I called for. After doing my due diligence and now that the record is apparently closed, I will vote against his confirmation," Heitkamp said.
"I voted for Justice Gorsuch because I felt his legal ability and temperament qualified him to serve on the Supreme Court. Judge Kavanaugh is different. When considering a lifetime appointment to Supreme Court, we must evaluate the totality of the circumstances and record before us. In addition to the concerns about his past conduct, last Thursday's hearing called into question Judge Kavanaugh's current temperament, honesty, and impartiality. These are critical traits for any nominee to serve on the highest court in our country," Heitkamp explained.
"There has been much public debate about Thursday's hearing, and it has furthered a national discussion about stopping sexual assault that is long overdue and we must continue to have. I have spent much of my time in public service – including as North Dakota's Attorney General – focused on combating domestic violence and protecting women and children from abuse. Our actions right now are a poignant signal to young girls and women across our country. I will continue to stand up for them," Heitkamp said.
"There are many extremely qualified candidates to serve on the Court. I'm ready to work with the President to confirm a nominee who is suited for the honor and distinction of serving this lifetime appointment," Heitkamp said.
In a statement, North Dakota Republican Rep. Kevin Cramer, Heitkamp's opponent in the Senate election, said "I'm deeply disappointed with Senator Heitkamp's decision to vote no on Judge Kavanaugh's nomination to the Supreme Court. Clearly, she has decided to vote with Chuck Schumer, and not the people of North Dakota."