Gayle King Really Loves The Bathrooms At Minneapolis-St. Paul International Airport
King shot a video inside one of the bathrooms and posted the video to her Instagram account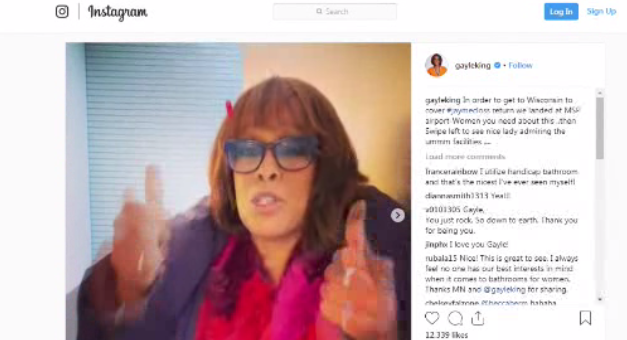 MINNEAPOLIS, MN — "CBS This Morning" co-anchor and Oprah's best friend, Gayle King, really loves the bathrooms at Minneapolis St. Paul International Airport.
She loves them so much, she shot a video inside one of the bathrooms and posted the video to her Instagram account.
"And the award for best bathroom goes to Minneapolis St. Paul. Why? Look at this bathroom," she said in the video.
"Number one the door opens out don't you agree ma'am. Take a shot of her. What's your name? Cherrie. Minneapolis St. Paul wow! Wow, wow, wow. You get an A two thumbs up. I've never done a video about a bathroom before but special mommy hug to whoever designed this. Thank you!"
Gayle was impressed with the bathroom to say the least and especially with the spacious handicapped stall.
She even wrote: "I'm convinced these bathrooms were designed by a WOMAN!"
Gayle was passing thru the Twin Cities on her way to Barron, Wisconsin to interview the family of abducted teen Jayme Closs.
By the way, MSP Airport was named the Best Airport in North America among terminals that serve 25-40 million passengers in both 2016 and 2017 by the Airports Council International.
Watch the video here.