Police: Two Bodies Found in Fire Pit Earlier This Month, Bemidji Man Expected to Be Charged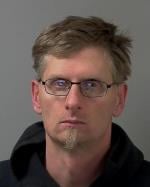 ECKLES TOWNSHIP, MN – A Bemidji man could soon be charged for allegedly causing the death of two men after their bodies were found in a fire pit in Beltrami County earlier this month.
Darren Stebe of Bemidji was arrested on February 5th for probation violations. The Beltrami County Sheriff's Office says he's expected to be arraigned on charges relating to causing the deaths of two men.
Authorities say they received a call from a concerned family member around 11:00 AM February 5th of a possible missing person who traveled to the Bemidji area from the Twin Cities metro. The caller said they hadn't talked to their family member in a week.
Around 6:00 PM, deputies gathered information leading them to a vehicle at the Palace Casino in Cass County, Minnesota.
Information led police to identifying two people of interest who were interviewed by the Beltrami County Sheriff's Office and Minnesota Bureau of Criminal Apprehension. Information led investigators to believe a "crime of violence" happened at a home on the 6500 block of Highway 89 Northwest in Eckles Township where the two people of interest live.
Investigators found the remains of two people in a fire pit. The remains were sent to the Ramsey County, Minnesota Medical Office and were preliminary identified as 39-year-old Adam Thorpe of Maple Grove, Minnesota. Officials believe the other remains are 41-year-old Jason McDonough of Superior, Wisconsin, but further testing is needed.
Police say no more information can be released until Stebe is charged.
Stebe has a long criminal history including domestic assault, drug sales, aggravated robbery, burglary and theft convictions.