Moorhead Declares State of Emergency for 2019 Spring Flood
The severity of flooding depends upon numerous factors, such as the speed of the snowmelt and the level of additional precipitation we may receive.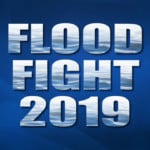 MOORHEAD, MN — The Minnesota city of Moorhead has joined neighboring Fargo, North Dakota, in declaring a flood emergency along the river that separates the cities.
Moorhead Mayor Johnathan Judd says the move enables the city to seek money from state and federal governments to help with potential impacts from Red River flooding.
Fargo declared a flood emergency Monday.
The National Weather Service says there's a 10 percent chance that the river will approach historic flood levels in the Fargo-Moorhead area.
The record is 41 feet, set in 2009.
Both cities have implemented significant flood-fighting measures in the last decade.
Moorhead City Engineer Bob Zimmerman says the city built 9 miles of temporary clay levees in 2009 and would need only 1.6 miles of levees if the river reaches 2009 levels this year.
During Mayor Judd's briefing today, he noted 4 things the community should know about the upcoming flood:
Riverfront Neighborhood Zones: Moorhead has once again established "Flood Zones" for neighborhoods near the river. The number and boundaries of flood zones have changed from prior events since many flood prone homes have been removed since then. For this flood event, 4 zones have been established. Each Zone has a Zone Leader who will be the primary point of contact for property owners within the Zone who may need technical advice or assistance while protecting their properties.2. Other Flood Communication: Get important messages directly at cityofmoorhead.com
a. Sign up for eNotification – Service Alerts is the category that will be used for flood messages
b. Sign up for Code Red
c. Check elevation – Flood Information button on homepage connects you with an up-to-date mapping tool showing what areas of a property are affected at specific river levels.

3. Volunteering and Sandbagging: Moorhead is fortunate in that so many people are willing to help one another. This is an area where our community really shines. Our volunteer operation process and sign up procedures will be announced Monday through our e-Notification Service Alerts and on social media and will begin midweek. Our amazing Moorhead student bodies have already expressed a willingness to help, as have many churches, organizations, and individuals.

The City has an initial goal of producing 150,000 sandbags necessary to protect public infrastructure and a number of private properties that have not been offered an opportunity for a buyout. The need for sandbagging is drastically less than in 2009 when 2.5 million bags were needed. This decrease is attributable to the significant progress made in removing the homes most vulnerable to flooding.

4. Oakport Neighborhood: The Oakport neighborhood was annexed to the City of Moorhead in 2015. Much of the Oakport neighborhood is protected by a flood control project completed by the Buffalo Red River Watershed District. The City of Moorhead is working on a flood protection project for the balance of the area, but that project is not yet complete. Oakport is our neighborhood now, and we want residents to know that our staff is working to support this Moorhead neighborhood. The City of Moorhead will provide sandbags to these property owners.