Man Leads Police on Pursuit in Fergus Falls Before Capture
The man, wanted on a number of felony warrants, fled a traffic stop and then dashed into a home.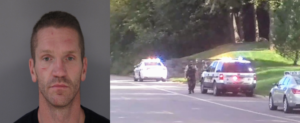 FERGUS FALLS, Minn. — A brief pursuit and standoff on the northeast side of Fergus Falls on Wednesday afternoon ended with four arrests.
41-year-old Terry Stewart was wanted on a warrant.
He fled a traffic stop, crashed into a vehicle and then dashed into an apartment.
Police set up a perimeter and Stewart was eventually taken into custody.
He faces a number of charges including fleeing, failure to stop for a collision and obstruction of justice.
Three other people at the residence were arrested for various charges including fleeing, aiding an offender and outstanding warrants.
All four are being held at the Otter Tail County Jail.